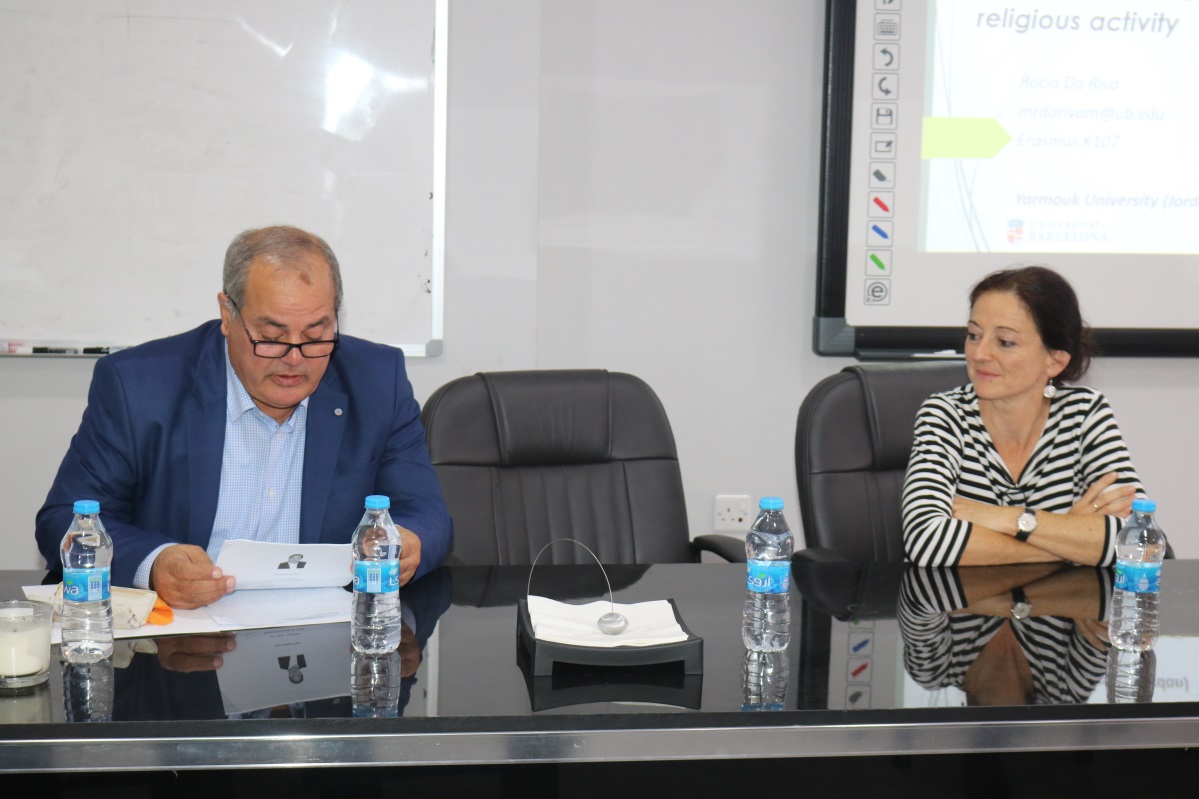 On the basis of the Faculty of Archeology and Anthropology at Yarmouk University policy, which aimed at opening the doors at the regional and international levels and within the program of Erasmus a scientific collaboration with the University of Barcelona was detained in the field of archeology and heritage.Where Dr. RocioDa Riva from Barcelona University gave a series of lectures at the Faculty of Archeology in the period between 28-31 / 10/2018 focused on ancient Near Eastern religions in the early periods of the Neolithic period, through the Bronze Age, the Iron Age in Mesopotamia, the Levant and in Jordan, in addition to the important information about the Nabateans. The lectures focused on the importance of latest discoveries in Mesopotamia, the Levant, southern Turkey, northern Syria and Jordan.
Regards the importance of holding such lectures and meetings, Professor Atef Al-Shiyab, the vice dean of the Faculty of Archeology and Anthropology, highlightedon the role of the Faculty as well as the support of the President of the University on working continuously to hold such important meetings and lectures for students and faculty members.Holding of such lectures is in line with the faculty vision and plan, which aimed at graduating qualified students to the market and giving them the required knowledge and skills.Although provide them of the latest discoveries and developments in the field of archeology and heritage, which could help in the teaching process in the college and opens a new horizon for students and professors in this field.
Also, Prof. Shiyab said that the Faculty of Archeology and Anthropology and for decades, have a distinguished scientific and cultural relationships with several international institutions and universities, in the field of monuments, inscriptions, museums and heritage. He continues, in the future we will keep in signingsuch agreements and meetings in a manner to serve our professors and students needs in the college.